Call tracking is one of the most important services of every business's  marketing. Business owners should always track their calls to see how many calls they getting from each source that they are advertising. Suppose you do online ads, newspaper, radio,TV, flyers or any other kind of marketing for your business. In order to find out if the money that you are spending for that particular source for marketing your business is bringing you clients and generates calls or not you need to put a tracking number on that particular advertising  source. For example, if you are advertising online you should have a separate tracking number on your online ads, a different number for your radio ads, another number for flyers and so on. This way you'll know exactly which form of advertising works the best for you. Marketing should never be done without tracking and all your leads should be tracked.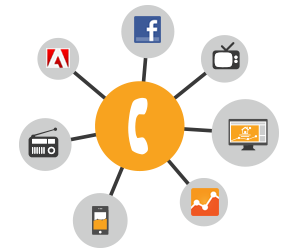 Through our easy to use call tracking platform, you'll be able to track all your calls by simply logging into your call tracking platform you see the phone number of each caller, the city name where the call comes from, the complete recording of each call allowing you to listen to the calls to make sure your staff are answering the questions of your customers properly,  see the exact date and time of each call and find out which days of the week you're getting the most calls and much more. This way you'll be able to control your leads and see which source of advertisement is working for you so you would keep that and eliminate the rest. Also, you'll be able to have more control over your employees to make sure that they answer the questions properly and if they make any mistakes, train them so they keep improving and learn all the necessary skills to bring the clients in.
Professional Optimizer offers a great call tracking package through an easy to use platform. Our call tracking system is the simplest platform out there and our low prices makes us a great choice to track your calls. The fee for the service is just $49 monthly for unlimited talk minutes for most type of business. (Some exceptions might apply).
Please check the short video below that shows how our easy to use call tracking platform works.


Summary of why you should use a call tracking service?
Track your leads to see if you are getting a return of investment of your advertisement
Eliminate the advertising services that are not working for you
Monitor your employees to make sure they're doing their job properly trained them to improve
Below is the features of our call tracking platform:
Easy to use
Tracks all the phone numbers of the callers
Tracks the date and time of each call
Call tracking graph that shows you which day and time you get the most calls
Tracks the duration of each call
Allows you to see if the call was answered or not
Records each call and ability to listen to the calls
Ability to block unwanted calls
Ability to create a complete call report on an Excell Sheet.
 We offer all kinds of local and toll-free numbers. a call tracking service will save you thousands of dollars by eliminating the marketing services and employees that are just not working for your business. If you are a marketing company and want to use our platform for your clients, please call us at (866) 311-8812 for the special deals.